Sunday, June 11, 2023 2:00 – 3:00 pm
Ohio Regional Music Arts and Cultural Outreach (ORMACO) and the Wadsworth Public Library continue their Sunday Live at the Library concerts with Cuyahoga Falls-based musician Jeff Klemm on Sunday, June 11, 2023, at 2 pm at the Wadsworth Public Library, 132 Broad Street, Wadsworth, OH 44281. Through the use of dynamics, wordplay, string arrangements and a myriad of instruments, Jeff takes you through some of his favorite original compositions showing how and why it is important to evoke emotion through music.
The program is free, but reservations are recommended by registering online or calling 419-853-6016.
About Jeff Klemm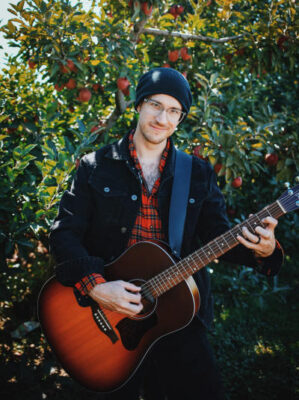 Ohio born singer, multi-instrumentalist, songwriter and producer Jeff Klemm is best known as frontman for the nationally touring Maid Myriad, the voice behind Diamond Kites and the driving force behind Jeff Klemm & The Letters. Klemm splits his time between his solo acoustic project, his rock bands, energetic wedding bands and making children's music as Mr. Jeff. The solo acoustic set Klemm tinkers with weekly at constant performances puts a spotlight on his versatile voice through a highly refined reimagined cover song collection of old soul, rock, pop and modern-day cover songs with original songs peppered throughout, showcasing his craft of songwriting through fifteen plus years of writing music for various artists.
A prolific songwriter, Klemm has released multiple albums with several different bands. Klemm is currently working on his fourth solo album of introspective acoustic and piano music with original string quartet compositions, a slew of singles with his rock project, a fun album of children's music and the follow up to the critically acclaimed Maid Myriad album all while frequenting the Ohio acoustic music circuit. Klemm's work ethic earned him the title of "Hardest Working Man In Akron Show Business" – The Devil Strip Magazine.
Klemm has performed his music all over the country many times over playing concerts in 41 states while embarking on several national full band and solo acoustic tours averaging out to around 100 shows a year since 2012.