Sunday, May 22nd, 2022 2:00 – 3:00 pm
Ohio Regional Music Arts and Cultural Outreach (ORMACO) and the Wadsworth Public Library continue their Sunday Live at the Library concerts with Cleveland-based vocalist Dane Vannatter as he salutes 20th century women songwriters, from Tin Pan Alley to Motown. Dane will bring his distinctive swinging and soulful sound to songs by Dorothy Fields ("The Way You Look Tonight"), Nancy Hamilton ("How High the Moon"), Ann Ronell ("Willow Weep for Me"), Dana Suesse, Kay Swift, Billie Holiday and Joni Mitchell, among others. The program takes place at 2 pm at the Wadsworth Public Library, 132 Broad Street, Wadsworth, OH 44281.
The program is free, but reservations are recommended by registering online or calling 419-853-6016.
About Dane Vannatter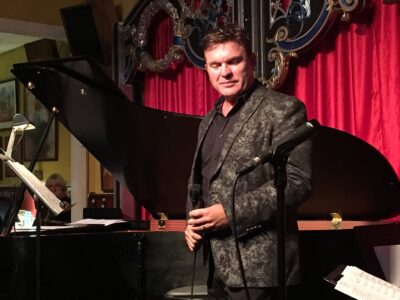 Dane Vannatter is the recipient of two Bistro Awards from BackStage in New York, for Outstanding Vocalist and for his second CD Flight. Dane has been acclaimed by reviewers at The New York Post, The Boston Globe and BackStage for a style that "blends facets of cabaret and jazz with intelligence and care." The Boston Globe remarks "Dane Vannatter's distinctive style leaves an imprint on whatever music he sings.
His voice has a floating quality that gets in your head and won't leave…. his music is a swinging, soaring adventure!" Dane has been nominated for four MAC awards and is a Nightlife Award finalist. Dane was featured at the annual Mabel Mercer Cabaret Convention at Town Hall in Manhattan and has performed in venues nationally and internationally. Dane sings regularly at Cleveland venues and his most recent Give Me Something Real was released in 2016 to much critical acclaim.