Sunday, April 3rd, 2022 2:00 – 3:00 pm
Ohio Regional Music Arts and Cultural Outreach (ORMACO) and the Wadsworth Public Library continue their Sunday Live at the Library concerts with Cleveland-based musician Bob Frank on Sunday, April 3, 2022, at 2 pm at the Wadsworth Public Library, 132 Broad Street, Wadsworth, OH 44281. The blues has always been America's primal form of self-expression. From Robert Johnson to Percy Mayfield, Bob Frank explores the lyricism and poetry of the blues. The program includes music by blues greats Robert Johnson, Lonnie Johnson, Tampa Red, Bo Carter, Percy Mayfield as well as compositions by Bob himself.
The program is free, but reservations are recommended by registering online or calling 419-853-6016.
About Bob Frank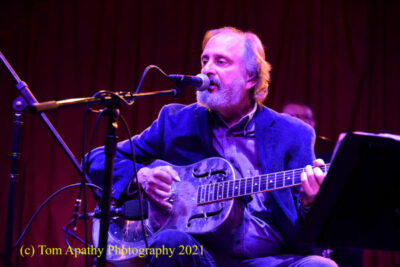 About Bob Frank, Cleveland Magazine said, "Aside from being an accomplished guitarist, Frank boasts an encyclopedic knowledge of old-time country, blues and bluegrass music." The Free Times added, "Frank is a first-class guitarist and vocalist." Jazz and Blues Report added, "A sure-fingered, veteran player, skilled in a wide spectrum of black and white roots styles, Frank comes off as a performer with a strong sense of identity." And in a recent cd review, Vintage Guitar Magazine said, "Frank is a first-rate songwriter and a champion guitar player."
A lifelong resident of Cleveland, Bob spent eighteen years as the leader of the Hotfoot Quartet, touring throughout North America and recording several albums. As a sideman he has worked with Robert Lockwood, Wallace Coleman, Candye Kane, fiddler Howard Armstrong, the Falls City Ramblers and British bluesman Long John Baldry.
Bob has played many kinds of music including bluegrass, old-timey, swing, rock, reggae and Caribbean soca, but is known these days as an expert in a wide variety of blues styles.
Between 1995 and 2019, Bob served as guitarist, vocalist, arranger and producer for the eight-piece band Blue Lunch. Under Bob's leadership, the band recorded and released eight highly acclaimed cd recordings.
During the day Bob works through the Center for Arts-Inspired Learning, performing traditional American music workshops and assembly programs for children. He has delivered over 3,500 of these programs in schools throughout the United States and Canada.