Sunday, July 17th, 2022 2:00 – 3:00 pm
Ohio Regional Music Arts and Cultural Outreach (ORMACO) and the Wadsworth Public Library continue their Sunday Live at the Library concerts with Kent-based Any Road on Sunday, July 17, 2022, at 2 pm at the Wadsworth Public Library, 132 Broad Street, Wadsworth, OH 44281. Members of the ensemble will demonstrate what differing instrumentation and structural "tweaks" can do to bring a new "spin" to songs by other artists. Have you ever imagined the Beatles' "Norwegian Wood" as a jazz waltz, the Rolling Stones' "All Over Now" as a bluegrass hybrid? Find out in this lively, informative session.
The program is free, but reservations are recommended by registering online or calling 419-853-6016.
About The Musicians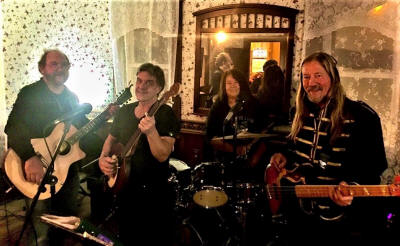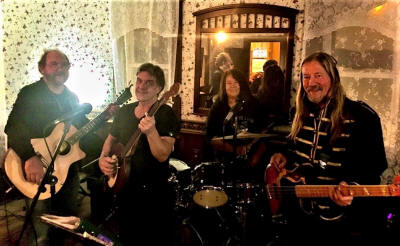 Nancy (Rogers) Peters is a versatile percussionist who has performed with musical groups from concert bands, military bands, and symphony orchestras to jazz, rock and world-music ensembles. She received her Master of Arts degree in Music Education from Teachers College, Columbia University and a Master of Music in Percussion Performance from Illinois State University. She also completed doctoral coursework (ABD) in percussion performance at the University of Georgia. Nancy has worked as an educator and well as a performer, teaching both percussion performance and music history and appreciation courses at Illinois State, University of Georgia and Ferris State University.
Mark Opritza (Vocals/guitar/mandolin/banjo) graduated with a BFA in Music in 1977 from the University of Arizona with a concentration on theory, composition and piano. He has been active in performance since the late 1960s playing in various local bands, including Life Support in the late 1970s and early 1980s before co-founding Red Dux in the early 2000s exploring the alt-bluegrass and Americana genre. Any Road grew out of remnants of that band and continues to explore many different "roads" including rock, folk, indie originals and the satisfaction of not being bound to any one style. The group is also working to bring more original songs into its repertoire and performed three of them at their recent PorchRokr appearance.
Multi-instrumentalist GT Bland, with his 5-finger banjo picking virtuosity, has brought more bluegrass influences into the fold, while also maintaining his business, Falls Music Studio in Cuyahoga Falls.
Roger McClain, a well-known area bassist, comes with a vast and varied performance background, including blues. Roger is also involved with Polymer City Records, a record label and promotions company.