Russian Duo: An Evening of Piano and Balalaika
Friday, June 23, 2023 6:30 pm
John Streeter Garden Amphitheater, 2122 Williams Road, Wooster, OH 44691
Ohio Regional Music Arts and Cultural Outreach (ORMACO) and the Friends of the Secrest Arboretum continue their summer Music at the Arboretum concert series on Friday, June 23, 2023, with Russian Duo. Siberian balalaika virtuoso Oleg Kruglyakov and American concert pianist Terry Boyarsky, celebrate cross-cultural creativity, exploring the range of possibilities for balalaika, voice and piano. Journey across the span of Russian culture- from humorous pieces, virtuoso variations, pulsating dance music, rhythmic folk songs and lyrical romances. In addition to classical music, this high-energy duo will also showcase many genres including music of Ukrainian composers, tango, blue grass, Soviet film music and their own arrangements of ragtime.
In the event of rain, the concert will be held at Fisher Auditorium, 1680 Madison Avenue, Wooster, OH 44691. For more information call 419-853-6016.
The program is free, but registration is recommended.
About the Musicians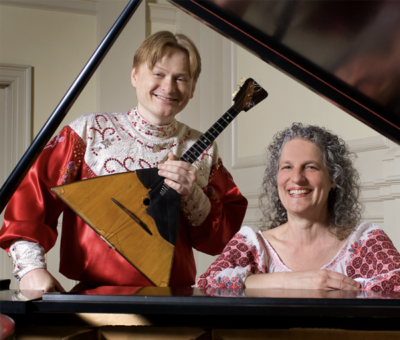 Oleg Kruglyakov was born in Omsk, Siberia, Russia, and began playing the balalaika at age seven. He studied conducting and pedagogy at the renowned Yekaterinburg Conservatory. He is a protégé of Yevgeny Grigorovich Blinov, the foremost balalaika virtuoso of the Soviet Union, who performed the world over and contributed to the balalaika-piano duo repertoire. Oleg taught at the Irkutsk School of Music, Perm College of Music and the Perm Institute of Culture. Since coming to the United States, he has given workshops with Russian Duo as part of their mission to share Russian culture and demonstrate the art of collaboration. To learn more about Oleg, visit http://www.russianduo.com/oleg.html.
Terry Boyarksy is a pianist, movement specialist, singer and ethnomusicologist who believes that every person is musical. Her search for musical collaboration has led her into chamber music, choral singing, folk dance, coaching, accompanying dance and creating ceremony. Terry has collaborated with singers and dancers across the United States, Canada, France, Switzerland and Venezuela. She holds a BA in experimental psychology from Reed College, a BM in Eurythmics from Cleveland Institute of Music and an MA in Ethnomusicology from Kent State University. Terry has taught and created events for institutions such as the Dalcroze Society of America, American Orff-Schulwerk Society, Society for Ethnomusicology, the Cleveland Institute of Music and the Atlanta Symphony Orchestra. To learn more about Terry, visit http://www.russianduo.com/terry.html.