Sunday, January 16th, 2022 2:00 – 3:00 pm
Ohio Regional Music Arts and Cultural Outreach (ORMACO) and the Wadsworth Public Library open the 2022 Live at the Library Concert Series on January 16, 2022 at 2 pm with classical guitarist Scott Schlegel in a program featuring works by Spanish composers Albeníz, Torroba and Segovia. He will also showcase Baroque music of Bach and Vanhal. The program takes place at the Wadsworth Public Library, 132 Broad Street, Wadsworth, OH 44281
The program is free, but reservations are recommended by registering online or calling 419-853-6016.
About Scott Schlegel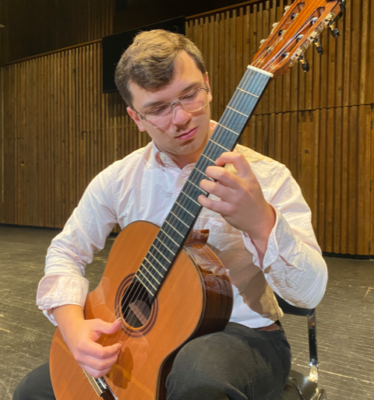 Guitarist Scott Schlegel grew up in Cleveland, Ohio, and is studying guitar performance at the University of Akron. He has performed in Cleveland Classical Guitar Society Community Concerts, The University of Akron Guitar Day, The UA Guitar Ensemble, the Negative Space Art Gallery and The PorchRokr Guitar Orchestra. He has performed at Guzzetta Hall as well as pubs surrounding the college campuses close to his hometown.  The recipient of the distinguished Outstanding Undergraduate Guitar Award, Scott taught at Western Reserve Music in Hudson, Ohio for three years and now teaches at Royalton Music Center, in North Royalton, Ohio.
Scott has played in masterclasses by Jason Vieaux, Benoit Albert, Randall Avers, and Johnnes Müller. Scott's repertoire consists of music from Frescobaldi to Richard Rodney Bennett, while including the great standards such as Bach and Isaac Albeniz. Scott currently studies with James Marron and plans to complete his Bachelor of Music degree in Classical Guitar Performance in May 2022.