Sunday, July 9th, 2023 2:00 – 3:00 pm
Ohio Regional Music Arts and Cultural Outreach (ORMACO) and the Wadsworth Public Library continue their Sunday Live at the Library concerts with Cleveland-based violinist Megan Sullivan. Megan will discuss how the violin has evolved from a mostly classical instrument to its role in today's music. The program will cover genre and style differences, as well as technology's role in the change. Megan will perform both classical selections and today's hits.
The program is free, but reservations are recommended by registering online or calling 419-853-6016.
About Megan Sullivan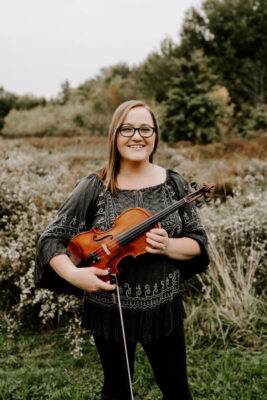 An active violin freelancer residing in Cleveland, Megan graduated from Baldwin Wallace Conservatory in 2014. She has performed side-by-side with Cleveland Orchestra members during BW's annual Bach Festival. Megan also served as the BW Symphony's concertmaster from 2013-2014.
Accomplished as both a classical and contemporary performer, Megan has played hundreds of concerts, weddings, and other events with repertoire spanning classical to today's hits! A few of her most notable performances include playing with Grammy award winners Michael Bublé and Josh Groban, as well as the Trans-Siberian Orchestra, and the Playhouse Square Orchestra.
Specializing in wedding music, Megan has played for over 200 ceremonies! She especially loves tailoring the music to the couple's exact vision and is able to play any special song request. She is also currently the violinist-in-residence at the Marble Room in downtown Cleveland, where she is constantly experimenting with new songs to add to her repertoire.