Medina Public Library: Matt Harmon
Wednesday, April 13th, 2022 6:30 pm
Ohio Regional Music Arts and Cultural Outreach (ORMACO) and the Medina County District Library present Euclid-based musician Matt Harmon on Wednesday, April 13, 2022, at 6:30 pm at the Medina Library, 210 S. Broadway Street, Medina, OH 44256.  With a knack for clever wordplay, Matt's songs tell tales that capture the human condition, from the ups and downs of the search for love, to the blessing of a good dog, from the off-key chimes of an ice cream truck to the evolution of the telescope. A Matt Harmon performance will appeal to your senses of humor and wonder.  With a flat-picking guitar style inspired by the best players of Bluegrass, Matt's show will be equally appreciated by the guitar aficionado and the literary buff alike.
The concert is free, but reservations are recommended by registering online or calling 330-725-0588.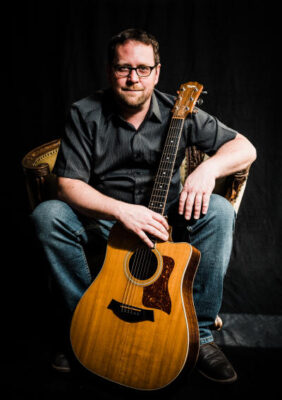 About Matt Harmon
Matt Harmon is a singer/songwriter and acoustic guitarist based in Euclid, Ohio. In addition to performing at venues throughout the region, he is a private guitar instructor and a Classroom Technology Specialist at Cleveland State University. With three albums currently available and a fourth one now in production, Matt is known as a unique voice in the greater Cleveland songwriting scene.
Learn more about Harmon at www.mattharmonmusic.com