Sunday, September 18th, 2022 2:00 – 3:00 pm
Ohio Regional Music Arts and Cultural Outreach (ORMACO) and the Wadsworth Public Library continue their Sunday Live at the Library concerts with Middleburgh Heights-based husband-wife team Jonathan and Tiffany Schaefer, as they weave together harp music and engaging storytelling into an unforgettable experience. Enjoy a program of traditional dance music and ballads from Ireland and Scotland, and let your imagination be carried away by folk tales and original stories.  The program takes place at 2 pm at the Wadsworth Public Library, 132 Broad Street, Wadsworth, OH 44281.
The program is free, but reservations are recommended by registering online or calling 419-853-6016.
About the Artists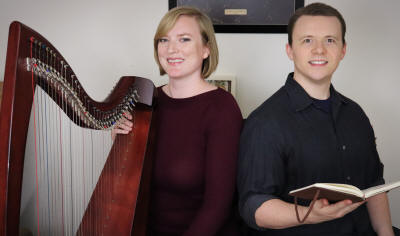 Harpist Tiffany Schaefer has been sharing her love of traditional Celtic music with audiences for over a decade. Outside of her work as Song and Story duo and as a solo artist, Tiffany also performs with the Irish band Creggane and The Cleveland Celtic Ensemble. As an instructor, Tiffany enjoys teaching private students and harp workshops in Northeast Ohio, the Midwestern US, and online to a wide international audience.
Jonathan Schaefer is a local writer who enjoys crafting worlds for our minds and hearts to explore. Whether it be a fantastical land of adventure or the simple but poignant moments of the everyday, Jonathan believes that life is a story well worth the telling.