Jazz under the Stars: Dane Vannatter, Tunes from the American Songbook.
Saturday, August 26, 2023 – 7:00 pm
Uptown Park, Medina, OH
Ohio Regional Music Arts and Cultural Outreach (ORMACO) closes out its summer Jazz under the Stars concert series with Cleveland-based vocalist Dane Vannatter and his ensemble on August 26, 2023, at 7 pm. Dane has been recognized by the Boston Globe for "his distinctive style leaves an imprint on whatever music he sings. His voice has a floating quality that gets in your head and won't leave…. his music is a swinging, soaring adventure!" No stranger to the jazz scene, Dane Vannatter has performed for audiences on the stages in New York, Boston, and Los Angeles. He has performed with jazz greats Sean Jones, Jackie Warren, Roger Humphries, Joe Negri, Dwayne Dolphin, Marshall Wood, Dick Johnson, Herb Pomeroy, Donna Byrne, and Carol Sloane.
Dane will be performing with Joe Hunter on piano, Aidan Plank on bass, and Ricky Exton on drums.
Bring your lawn chairs, blankets and picnics and enjoy this evening of songs from the American Songbook. In the event of rain, the concert will be held at St. Paul's Episcopal Church, 317 E Liberty Street, Medina, OH 44256. For more information, call 419-853-6016.
About the Musicians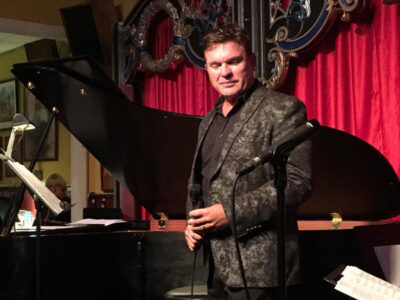 Dane Vannatter is the recipient of two Bistro Awards from BackStage in New York, for Outstanding Vocalist and for his second CD Flight. Dane has been acclaimed by reviewers at The New York Post, The Boston Globe and BackStage for a style that "blends facets of cabaret and jazz with intelligence and care." The Boston Globe remarks "Dane Vannatter's distinctive style leaves an imprint on whatever music he sings. His voice has a floating quality that gets in your head and won't leave…. his music is a swinging, soaring adventure!" Dane has been nominated for four MAC awards and is a Nightlife Award finalist. Dane was featured at the annual Mabel Mercer Cabaret Convention at Town Hall in Manhattan and has performed in venues nationally and internationally. Dane sings regularly at Cleveland venues and his most recent Give Me Something Real was released in 2016 to much critical acclaim.
Cleveland Heights native Joe Hunter began playing piano when he was eight years old. He expanded his musical skills in jazz ensemble and orchestra at Heights High. At Cleveland State University, he studied classical music and as a student in Rio de Janeiro, his passion for Brazilian music was ignited. He has been recognized for his love of the American Songbook and its relationship to the spirit of jazz. Hunter has been playing music full time, as a solo artist and with various bands since the late 1980s and in 1997 started teaching jazz piano at Cuyahoga Community College, a faculty position he holds today.
Aidan Plank is a bassist living in Northern Ohio. He currently serves as bassist for the Cleveland Jazz Orchestra, Cleveland Jazzworks and Dan Bruce's Beta Collective. Plank's own ensemble, Pulse, explores original compositions by its members as well as a diverse range of music by well-known and obscure jazz composers. As an educator, Plank serves as the jazz bass instructor at Kent State University and at Cuyahoga Community College's Jazzfest Academy. Also, he has served as a clinician and adjudicator at many festivals and academic institutions. Performance highlights including playing with Dan Wall, Joe Lovano, David Berkman, Tim Armacost, Tierney Sutton, Vanessa Rubin, Gerald Clayton, John Fedchock, Bill Dobbins, Bruce Johnstone, Joe Maneri, Steve Davis, Jamey Haddad, Michael Philip Mossman, Carl Allen, Randall Woolf, Terence Blanchard, The Cleveland Orchestra, Judi Silvano, Bruce Arnold, and others. He has performed at Carnegie Hall, Severance Hall, The Knitting Factory (NYC), Spectrum (NYC), Elastic Arts (Chicago) and Blossom Music Center.
Ricky Exton is a drummer, recording artist, composer, arranger and producer. He has been active in the music community for over two decades. At an early age, Ricky's talents emerged as one of the Cleveland Tri C All Stars. He continued his career in music at the Berklee College of Music in Boston, Massachusetts, where he earned a BA in Professional Music. His performance venues include jazz festivals, television appearances and private and corporate events. He has performed with Lou Rawls, Wynton Marsalis, Rufas Reid, Terrence Blanchard, Ernie Krivda, Cyrus Chestnut, Joanne Brackeen, Kim Nazarian, Dominick Farinacci and international guitar virtuoso Neil Zaza. In addition, Exton is an active session musician recording in studios from the East to West coasts.