Saturday, October 10, 2020 2 p.m. FREE
8187 Camp Road, Homerville, OH 44235 at the new home of ORMACO
Ohio Regional Music Arts and Cultural Outreach (ORMACO) invites you to come and enjoy its inaugural concert at its new location at 8187 Camp Road, Homerville, Ohio 44235 by Cleveland-based early music ensemble Affekt! on Saturday, October 10, 2020 at 2 pm. Presenting music in a fun and engaging manner, this outdoor, socially distanced concert will include Handel's keyboard suite "The Harmonious Blacksmith" and French violin virtuoso Jean-Marie Leclair's "Sonata in A minor". Listen for bird calls in Jose Herrando's charming Sonata "In the Gardens of Spain"!  The concert will conclude with the Ohio premiere of Mariannes Martinez's harpsichord "Sonata in G major" and Bertali's lively "Chaconne", a piece that will surely leave you in high spirits. Bring your lawnchairs. Face masks required. The concert is free, but donations appreciated to help sustain future arts programming.
About the Musicians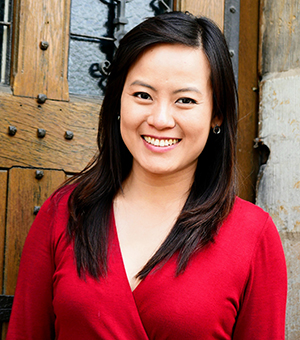 A firm believer of story-telling through music, QinYing Tan is a historical keyboardist with influences from a pool of diverse music which includes baroque French court dance, Indonesian gamelan, the Chinese guzheng, as well as community song and dance.  Born in Singapore, Ying moved to the United States in 2012 and recently graduated from Cleveland Institute of Music with a doctorate in harpsichord performance.  Currently, Ying works at Case Western University, John Carroll University and Notre Dame College as keyboard and music history faculty. Ying has also performed as a concerto soloist with the Baltimore Baroque Band, the Case Baroque Orchestra and the Charm City Baroque.
When she is not immersed in music, Ying loves exploring hikes with her husband, Irwin Shung, and dachshund rescue, Jax.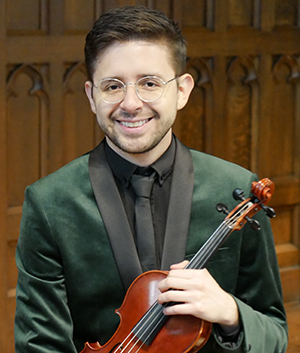 Costa Rican violinist Guillermo Salas-Suárez is currently working towards a doctoral degree in Historical Performance at Case Western Reserve University, under Dr. Julie Andrijeski. Previously he studied with Bulgarian pedagogue Dr. Borislava Iltcheva. He performs with a myriad of ensembles, including the Austin, Indianapolis, and Atlanta Baroque Orchestras, the Jeune Orchestre de l'Abbaye (France), the Orquesta Sinfónica de Heredia (Costa Rica), among others. His musicological research has been featured in conferences at Indiana and Boston Universities. Mr. Salas-Suárez has shared the stage with conductors and soloists such as Manfred Honeck, Yefim Bronfman, Jean-Yves Thibaudet, Lang Lang, and Renée Fleming, in venues such as the Sala São Paulo, the Aspen Music Festival, and the National Theatres of Costa Rica, Panama, Nicaragua, and Honduras. In the field of Historical Performance, he has collaborated and trained with seminal figures like Malcolm Bilson, Jeanne Lamon, Paolo Pandolfo, Barthold Kuijken, Ryo Terakado, Enrico Gatti, and Stanley Ritchie, at the early music festivals in Boston, Bloomington, Amherst (US), Urbino (Italy), Daroca (Spain), and Saintes (France). As concertmaster and soloist, he has appeared with the Sewanee Symphony, the Honduras Philharmonic Orchestra, and the Camerata San Carlos.