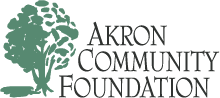 ORMACO has created an endowment fund at the Akron Community Foundation so we have permanent, consistent funding to do good work in our community forever. Help us continue our mission of making music, art, and culture accessible to the entire community by donating to the ORMACO Endowment Fund at www.akroncf.org/give/ORMACOFund. For more information, call 330-722-2541.
Please let us know if you would like to allocate your donation to a specific outreach program.
The Internal Revenue service has designated ORMACO, Inc. a tax-exempt charitable organization under IRS Section 501(c)3.